08/10/2021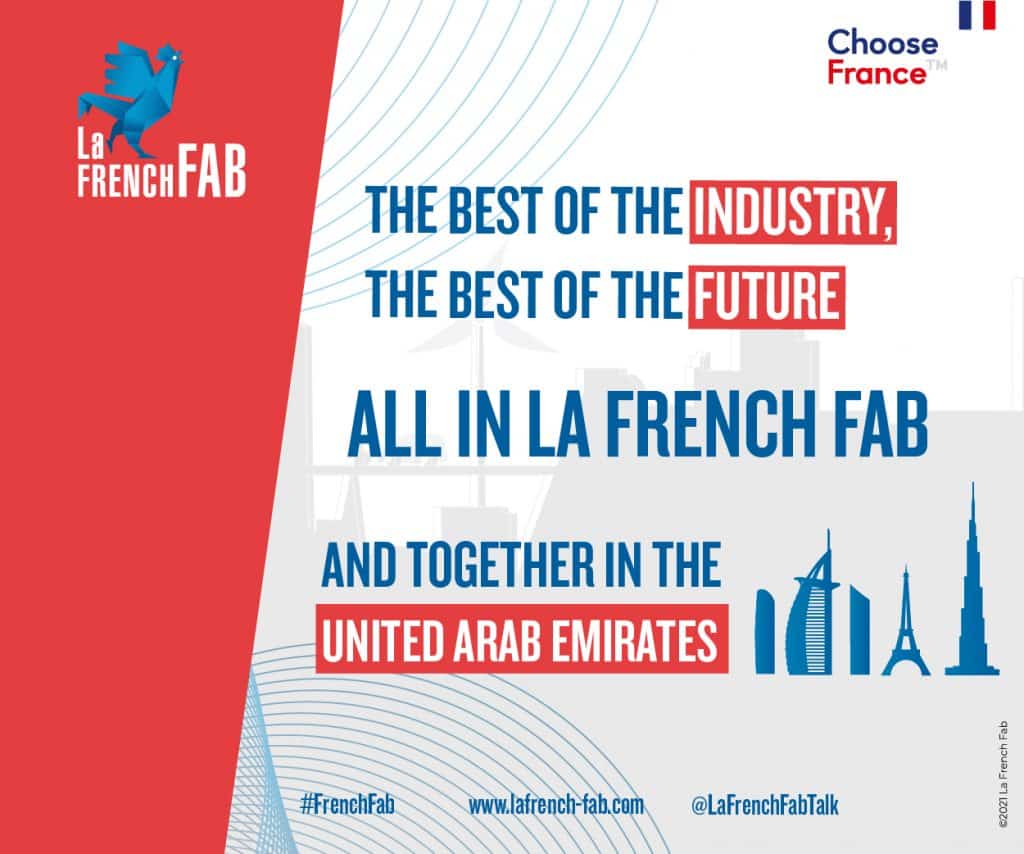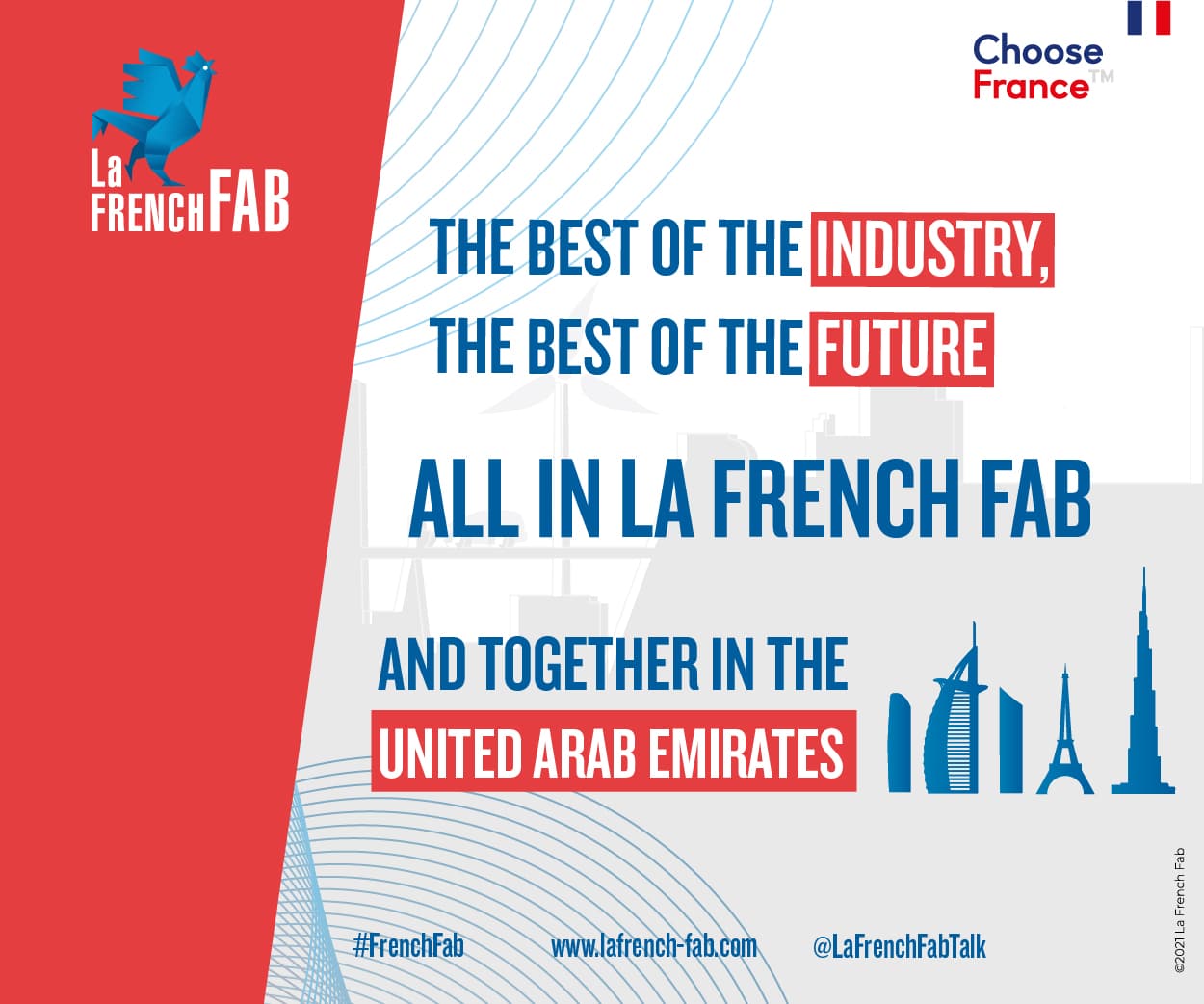 Following a call for applications to join an acceleration program organized by Business France Middle East, 11 French start-ups from the industry of the future have been selected by a jury of experts to join the 1st edition of this industrial excellence program over 6 months, aiming to boost their development in the United Arab Emirates.
Operated by Business France, the French Fab Booster Middle East aims to provide its cohort with fields of expertise, visibility, networks of funders, mentors and partners. In line with the new industrial strategy of the United Arab Emirates announced last March, that aims to triple the share of industry in GDP and transform the United Arab Emirates into a global hub in advanced technologies and 4.0 solutions, this mission will bring very promising experts from France to discover this land of excellence and attractiveness for young talents, developers and 4.0 experts from around the world.
An impressive journey. Created just four years ago, the French start-up, Saqara, has convinced more than 500 companies in 7 countries to adopt its digitisation solution for the building and public works sector. The company based in the Greater Paris region, which has just raised €9 million, has developed a platform that simplifies and speeds up calls for tender in the construction sector. More than €18 billion in transactions have already been completed using this solution!
Its founders, Alexandre Brochot and Thomas Cassou, are eyeing the United Arab Emirates. The peninsula, which hosts this year's World Expo, has 15,000 construction projects in its pipeline: houses but also hospitals, schools and commercial centres. Saqara's bosses travel to Dubai and Abu Dhabi from 12 to 31 October, as part of French Fab Booster, an acceleration programme organised by Business France. Ten other start-ups will also go there, with the aim of pitching their innovations and signing contracts with local customers. These eleven start-ups will spend nearly three weeks in Dubai and Abu Dhabi. On the agenda: visits, B2B meetings and pitches in front of investors.
The cohort have benefited from a virtual preparation and mentoring phase prior to their trip, from March to September 2021, in association with Business France Middle East teams and local mentors.
In October 2021, they are being immersed into the business ecosystem of Dubai & Abu Dhabi to complete their BtoB meetings, visits and pitch programme. They will enjoy maximum visibility by representing the best of the industry of the future, at the opening of the Dubai World Expo.
As industry 4.0 is at the heart of all discussions, Bordeaux-based company FieldBox.ai will present its platform that allows manufacturers to optimise the operation of their equipment, with the help of artificial intelligence. The 100-employee company has signed contracts with leading multinationals. The French leader in Energy Total, for example, uses the FieldBox solution to prevent electric pump failures at the bottom of its oil wells. The start-up does 90% of its business abroad. It set up a subsidiary in Singapore in 2020.
The French Fab Booster programme has a lot to offer to manufacturers. Based in France and Portugal, Ineo Sense manufactures connected things for major industrials such as construction company Vinci, car manufacturer Toyota and industrial gas specialist Air Liquide. It has deployed more than 150,000 sensors to date. Other start-ups include Ovalie Tech, which helps identify production incidents with its smartphone application for maintenance technicians. Quadrica has invented a VR solution that enables you to inspect the digital twin of an infrastructure, the same way as Google Street View, and closely observe details that are hard to reach. Likewise, its fellow JM Concept has deployed 800,000 high-precision devices around the world to monitor industrial installations – with already a prestigious business case: the Three Gorges in China, the largest dam in the world. And the Big Data specialist, Oryx, generates 20% of its turnover abroad, from England to Brazil, including Greece.
The Emirati cities will take a close look at the solutions of Urbanomy and ConsoMIX. The former is specialised in urban planning and carbon neutrality. It is participating in the creation of an eco-village in Oxfordshire, in the UK. The latter uses its Big Data expertise to help cities better manage their infrastructure – for example, to reliably track the number of beds available in hospitals, optimise the utilisation rate and improve patient care.
Last but not least, French start-ups are aware of climate change and working to reduce the carbon impact of industry. An expert in industrial engineering, Dametis is helping giants such as IT specialist Toshiba and electrical infrastructure company Legrand reduce their carbon intensity. The BuyCo digital platform simplifies and optimises the maritime transport of containers. It reports productivity gains of "30 to 50%". Its customers include Anheuser-Busch, the world's largest beer group.
In short, the French Fab companies have great assets to show off in the United Arab Emirates.