08/02/2023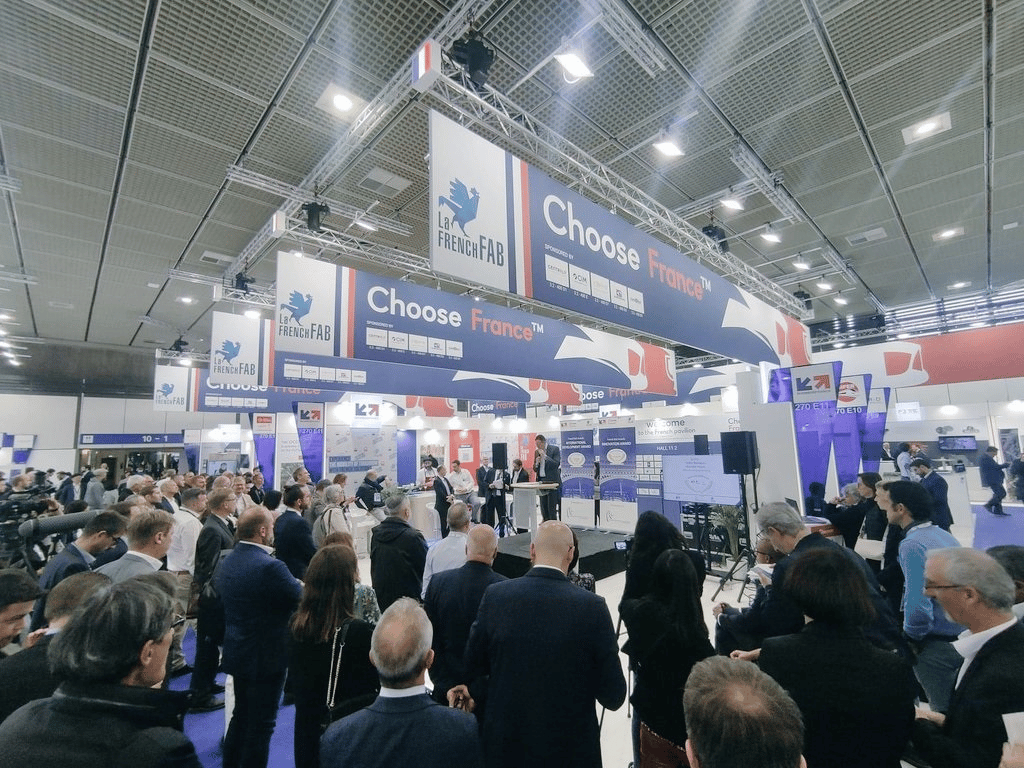 A look back at a colorful 2022 for La French Fab, which was present at a wide range of large-scale international events, flying the French flag at all the important shows, in fields as varied as renewable energies, the creation of Smart Cities, the technical textiles industry or water management. French businesses were able to demonstrate their expertise to European and African decision-makers, as far afield as Saudi Arabia!
Whereas France announced that it was ready to set aside €7 billion of public funds to create a real green hydrogen industry, the Pavillon France enabled French mid-tier firms to showcase their know-how in this sector at the Hannover Messe; the largest industrial innovation show in the world.
With 135 exhibitors spread over 4 France Pavillons, the Interschutz trade fair (Hanover, Germany), shone the spotlight on France this year. La French Fab startups presented their innovations at this benchmark international trade fair, in the areas of fire prevention, emergency services, and safety and security, while the flagships of the French technical textiles sector demonstrated the excellence of French expertise and their ability to produce increasingly ecological high-performance textiles at Techtextil (Frankfurt, Germany), the leading international trade show for technical textiles and nonwovens.
A confirmed presence in Africa and the Middle East
In September, France was the first foreign delegation at the 13th InnoTrans show (Berlin, Germany), the leading trade fair in the world devoted to railway transport technology. Around 100 French SMEs and mid-tier firms exhibited their sustainable mobility innovations (long distance and urban), from engineering to rolling stock, via infrastructures and network insertion in the context of the Smart City.
Over half of French towns have already invested in smart grids, connected smart electricity networks, designed to improve energy management. In Barcelona last November, the Smart City Expo World Congress 2022 (SCEWC) enabled decision-makers, municipalities and businesses from around the world to exchange ideas. These included a number of French businesses with expertise in the Internet of Things and Artificial Intelligence, whose aim is to improve how cities are managed (water, waste or urban lighting management, population flow analysis).
Last September, the Africa France Forum for Energy and Ecological Transition (Tunis, Tunisia) gave 55 French businesses the opportunity to present their know-how in a wide range of domains (water, energy, ENR, sanitation, waste management, and also smartgrids or the circular economy) not only to African decision-makers from Tunisia, Côte d'Ivoire, Cameroon, Senegal, Algeria, Egypt and Libya, but also to over three hundred foreign businesses. Indeed, the population of African is on track to double by 2050, and issues such as drinking water management, urbanization and how to cool buildings are at the heart of the challenges facing Africa.
With the 2nd edition of the French Fab Booster Middle East, French startups have launched their assault on the Saudi and Emirati markets. Huge investment plans are required to ensure the diversification and prepare the future of these largely oil-based economies – clean industry, energies, cleantechs, logistics… this program will enable those French businesses selected to speed up their development in the Middle East!