25/03/2022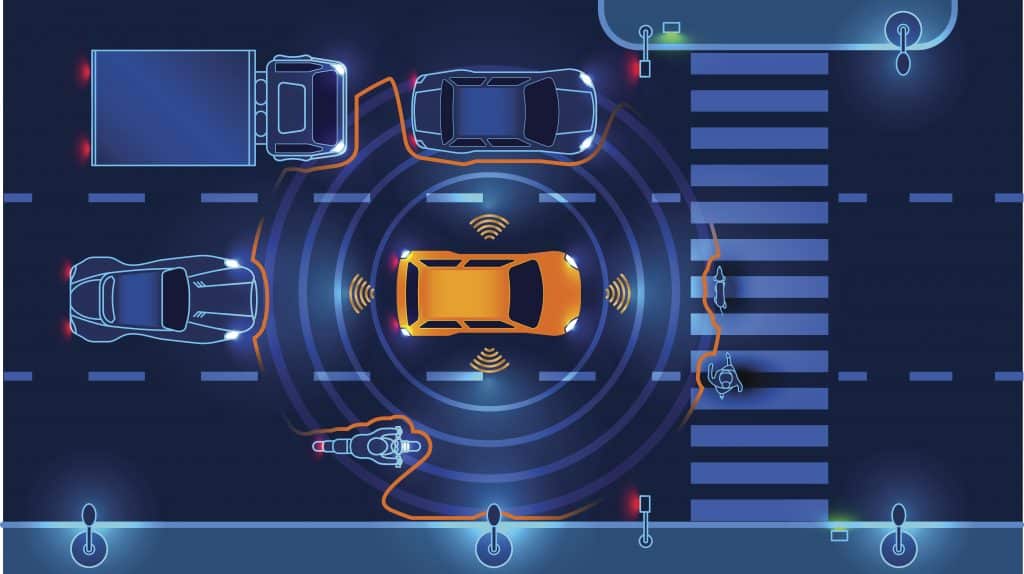 French manufacturers are counting on the latest technological innovations to make mobility smarter and greener. They have built their extensive experience beyond their borders.
The electric mini-bus silently makes its way between pedestrians and cyclists at the Institut universitaire du cancer. Since January, a shuttle equipped with sensors and video cameras has been operating on the campus located in Toulouse, south-west France. This Level 4 autonomous vehicle designed by Easymile does not require the presence of a driver, even to retake control of the vehicle if required. This is a first for Europe. The technical achievement demonstrates the success of La French Fab in the area of smart mobility.
Connected things and artificial intelligence are paving the way for autonomous vehicles. In the future, there will be no need for a driving license to use a car. It will even be possible to sleep or entertain yourself during your journey. The number of accidents will fall and itineraries will be optimized so as to reduce traffic jams.
Intelligent transportation systems (ITS) are already making use of sensors to analyze obstacles on the road. La French Fab is a pioneer in this domain. In 2016, Japan welcomed its first robot taxi, created by Easymile. The following year, its countryman Navya started a driverless bus service on behalf of CarPostal, in Fribourg. A delegation led by Business France will present the latest French innovations in the field of smart mobility at the Intertraffic trade event in Amsterdam, from March 29 to April 1.
French operators can boast their extensive experience in new mobilities. Based in Toulouse and Singapore, EasyMile has travelled over 1 million kilometers in autonomous mode. The SME has deployed its autonomous shuttles in 30 countries. In November, it received the first authorization in Europe to operate under Level 4 autonomy on public highway. For its part, Navya employs 280 people in 23 countries. The company is collaborating with Valeo, a worldwide leader in automotive equipment, on the development of the Autonomous Vehicle Failsafe System. This electronic system is used to adapt the behavior of the vehicle to ensure the safety of passengers and pedestrians.
BlaBlaCar, one of the heavyweights of La French Tech, has created a community of over 100 million members in 22 countries that use its car-sharing platform, thus saving 1.6 million tons of CO2 each year. Now, the public is embracing new sustainable mobility solutions. In France, operators of shared bikes, scooters and cars recorded over 9 million trips in October 2021, according to data aggregator Fluctuo.
Aware of their environmental impact, manufacturers are working on more economical designs. In 2024, railway manufacturer Alstom will thus release a new version of TGV, the French iconic high-speed train. Thanks to its more aerodynamic nose and a regenerative braking system, the train will use 20% less energy than its predecessor while still offering a top speed of 320 kph (200 mph). Its wear sensors will enable to identify problems sooner, so that maintenance costs will be reduced by one third. As much performance with fewer resources: La French Fab indeed invents smart mobility!