14/02/2022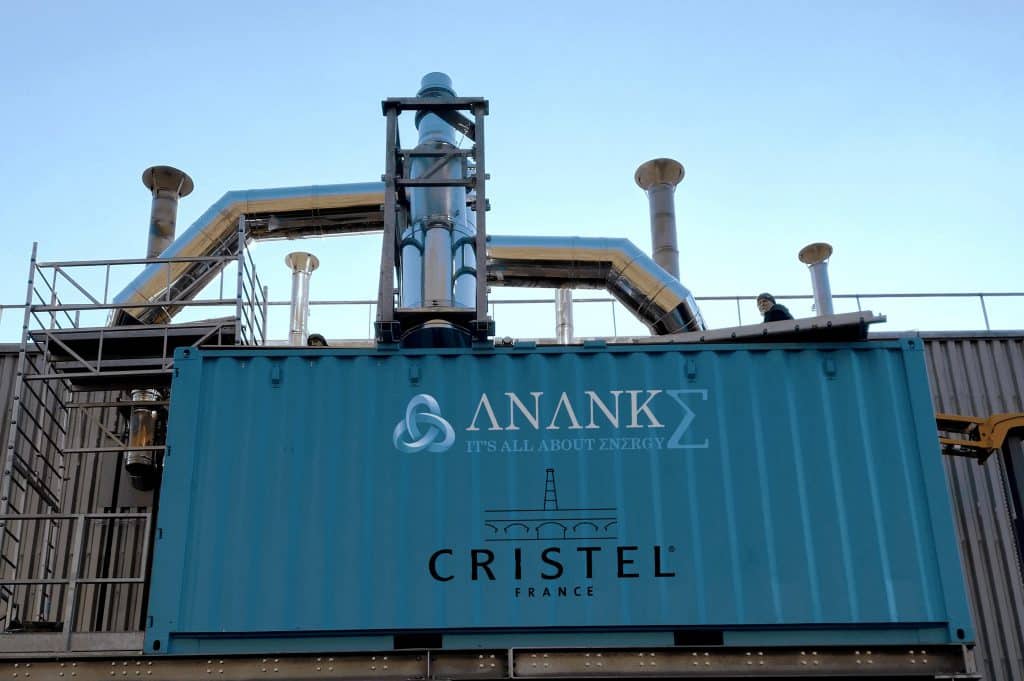 After conducting a thorough, several-week audit in a small plant in eastern France, the startup has recently installed its first demonstrator there, which will recover the heat from a heat treatment furnace to produce electricity and compressed air.
Using its diagnostic unit Etna, Ananké's engineers collected data on the industrial fumes generated by luxury kitchen utensil manufacturer Cristel (flow rate, CO2 content, temperature variation, composition). The SME will now be able to recover the energy from 90% of its fatal heat, i.e., the heat generated by the production process but lost in the fumes exhausted through the chimney.
Ananké has updated an old technology, the 19th-century Ericsson engine or EHVE (externally heated valve engine), also known as the hot-air engine. More specifically, the air from the chimney is recovered and sent through a compression chamber into a heat exchanger connected to an industrial chimney to produce compressed air or electricity, which can be reused directly in the plant's production process.
The Kéos module, Ananké's 40kWh eco compressor, enables the production of compressed air and useful heat from any heat source above 450°C (842°F). The thermodynamic conversion process generates 25% mechanical energy and 75% thermal energy.
This in-house recovery of the plant's heat loss reduces the need to purchase external energy, leading to better production cost control. In addition, thanks to this solution, the Cristel plant will be able to recover its waste heat and therefore significantly reduce its environmental footprint.
Thanks to its design and its innovative features, Ananké's solution is more efficient than other externally heated valve engines and can be used in various sectors, such as metallurgy, glassmaking, and chemicals.
The startup is staking its development on the simplicity of its solution: all the engine components are housed in a single container to facilitate on-site installation. Furthermore, the Kéos module is connected to the foot of the chimney downstream of the industrial process and does not disrupt production. With a standard power output of 40 kW, it is suitable for both small and very large industrial sites, since several can be installed side by side.
The startup has won several innovation awards and has joined the Coq Vert community of businesses committed to the green transition. As such, it will receive financial aid from the French government and the BPI (French Public Bank of Investment) to take its solution to the pre-manufacturing stage in 2022.
The goal for 2023? To install the Kéos module in as many French plants as possible! In the meantime, the startup is already marketing its diagnostic unit Etna, as manufacturing firms are very often unaware of how much heat they actually lose.