04/02/2022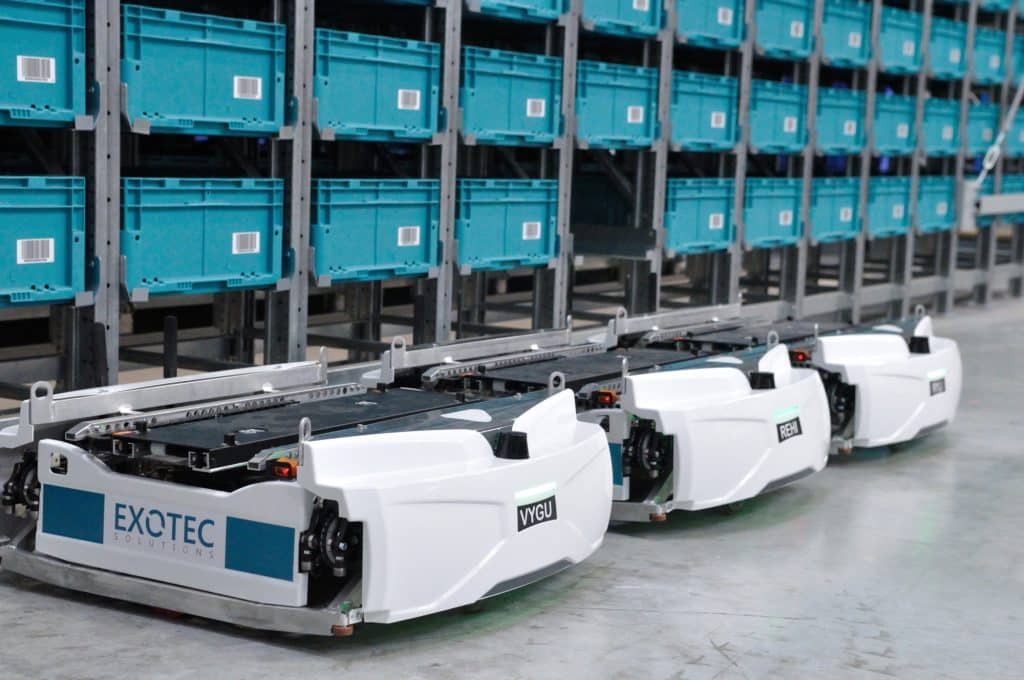 The 25th French unicorn has developed a ground-breaking global robotics solution to automate order processing in e-commerce warehouses.
Having recently secured US$335 million through a funding round led by American firm Goldman Sachs Asset Management, Exotec is now valued at US$1.7 billion. Thus, it has joined the exclusive ranks of the Robocorns, which are unicorns valued at more than US$1 billion.
Established in 2015 in northern France, the startup makes logistics support robots for warehouse automation. Exotec promises to accelerate order picking and increase the processing capabilities of logistics centers. With the boom in e-commerce, due in part to the health crisis, optimizing warehouse operations is more crucial than ever.
Exotec has designed and assembled 2,500 robots exclusively in France, generating revenues of US$105 million in 2021. The startup plans to grow its business twofold this year with a revenue target of US$ 200 million, 75% of which will be generated outside of France.
Exotec already has a portfolio of fifty clients, including large French firms such as Cdiscount, Monoprix and Carrefour (food), Décathlon, Uniqlo, Gap, and most recently, French second-hand retailer Patatam.
French technology that multiplies development opportunities in the e-commerce sector
According to Exotec, its Skypod robots and its articulated arm, the Skypicker, boost warehouse throughput fivefold.
To be more specific, Skypods can travel at a speed of four meters per second and climb to heights of up to 12 meters, meaning that they can prepare an order four times faster than a human employee.
The Skypicker is an automated picking tool that can be mounted on the Skypod. This robotic arm, fitted with a camera featuring product visualization algorithms, increases order processing capabilities twofold. Practically speaking, it is able to move any product weighing less than two kilos from the storage bins to the order preparation bins. Fitted with its own "order mover", the Skypicker can prepare four orders at once and is suitable for all types of warehouse. Speed: 600 items per hour.
La French Fab is committed to supporting human operators in logistics centers
However, progress in warehouse management must not come at the expense of human beings: the robots operate in an enclosed environment to avoid any risk of collision with employees, and they are monitored 24/7 from a control room to prevent any failures.
Exotec's robots eliminate the most repetitive tasks and reduce onerous tasks for warehouse operators, who can concentrate on manually checking orders and packing products.
Following the latest funding round, Exotec plans to hire 300 more people, thereby doubling its workforce. 2024 target: recruit 500 R&D engineers and lead the world in warehouse robotics.