30/03/2022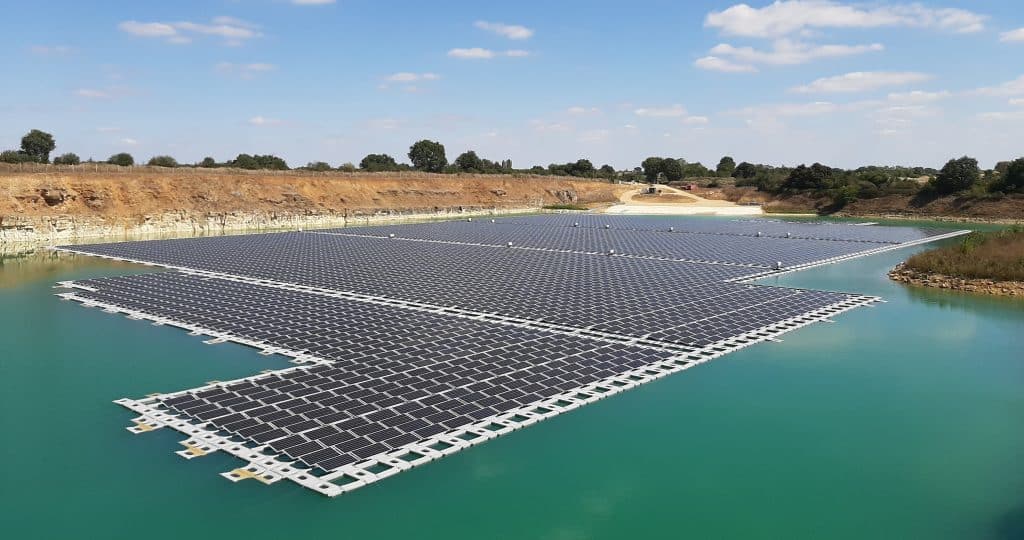 According to the latest figures from the International Energy Agency (IEA) published in early February, floating solar power is one of the fastest growing solar energy segments. It is showing itself, between economic challenges and climate challenges, to be one of the preferred solutions for a successful energy transition. La French Fab is already making a name for itself in this sector.
By 2050, the planet is expected to have 2 billion more inhabitants than it has today, which will, as a result of the urbanization and industrialization of these new populations, lead to an increase in energy requirements. Even though the energy sector accounts for 75% of greenhouse gases, it appears difficult to meet the COP 26 goal of restricting global warming to 1.5 degrees.
There are, however, strong arguments in favor of solar power. It is one of the most affordable energies. In fact, the cost of electricity produced by photovoltaic power stations fell by 77% between 2010 and 2018. Floating solar power is all the more interesting as it avoids the need to use up often costly land resources, which can therefore be dedicated to industrial or agricultural activities, and it allows the development of unused and/or previously unusable stretches of water (ponds, lakes, reservoirs, etc.). Combined with hydraulic power, it can also smooth out the daily and seasonal variability of the solar flux.
Floating PV is therefore one of the fastest growing segments of the solar power industry, with over 3 GW of installed capacity in 2021. According to the Norwegian specialist consultancy firm DNV GL, demand could rise by an additional 10 GW by 2025.
In this area, the French SME Ciel & Terre International is a pioneer and global market leader. The company operates nearly 245 projects in some thirty countries (out of 700 identified worldwide by the installed capacity). It is one of the only companies capable of offering floating structures of up to 15 MW, and continues to invest in order to offer products that are increasingly affordable and efficient.
It is not the only innovative French company operating in the sector. Raftsolar, a company based in the Landes region (south-west France), is working on a new type of membrane covering the floats with a lifespan of 30 years and which guarantees that there is no dilution in the aquatic environment. Finalization of the R&D phase planned for mid-2022.
La French Fab's continuous innovations ensure that it will remain the sector leader!